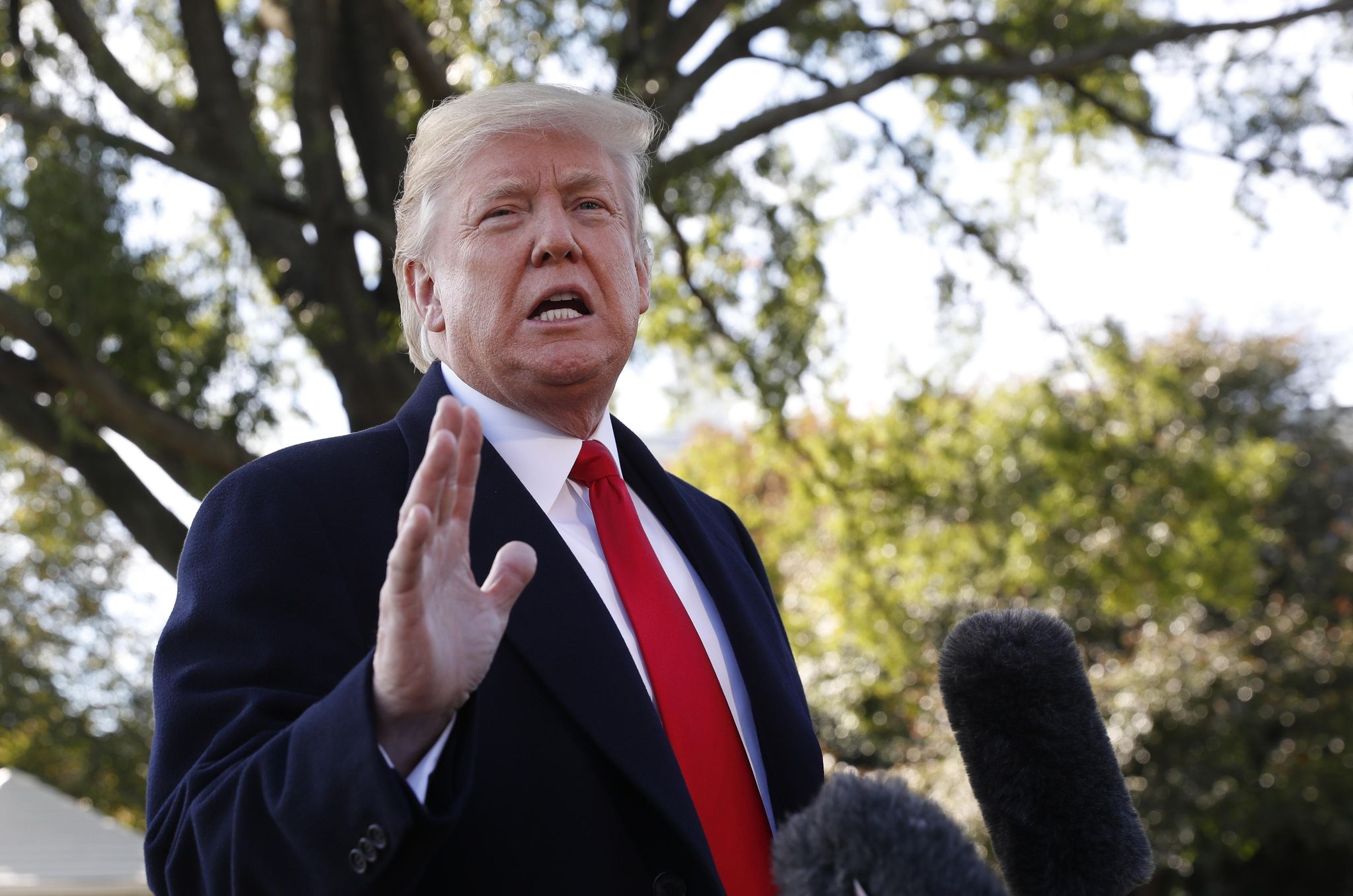 Washington and Moscow returned to Cold War-style rhetoric Monday as President Trump ratcheted up his threat to unilaterally pull the U.S. out of a key agreement that has kept the nuclear arsenals of b
Washington and Moscow returned to Cold War-style rhetoric Monday as President Trump ratcheted up his threat to unilaterally pull the U.S. out of a key agreement that has kept the nuclear arsenals of both sides in check since the Reagan era, as Russia demanded an explanation and analysts warned that the move could spur nuclear deployments around the globe.
Mr. Trump revealed to reporters that he felt so strongly Russia was cheating on the deal that he didn't bother to inform the Kremlin before making his decision.
"Russia has not adhered to the agreement," Mr. Trump said. "We have more money than anybody else by far. We'll build it up until they come to their senses."
SEE ALSO: Trump promises nuclear buildup, warns Russia not to 'play games'
The high-stakes threats of a revived nuclear arms race were issued as White House National Security Adviser John R. Bolton prepares for a tense meeting with Russian President Vladimir Putin on Tuesday.
Both sides have publicly declared that they will begin ramping up their missile capabilities. The meeting was scheduled before Mr. Trump said last week that he intended to withdraw the U.S. from the Intermediate-Range Nuclear Forces (INF) Treaty, a deal designed to limit the U.S. and Russia from building or deploying any missiles and launch systems with an "intermediate" range of 300 to 3,400 miles.
Signed in 1987 by President Reagan and Soviet leader Mikhail Gorbachev, the INF cooled fears that a "limited" nuclear war short of an all-out exchange could erupt in Europe. Both sides dismantled huge caches of missiles as part of the agreement, which remained in place after the fall of the Soviet Union.
But the U.S. and international partners such as NATO now say Moscow is in clear violation of the deal, and Mr. Trump on Monday offered a stern warning that Washington won't allow it.
The president also stressed that no other nation — including China, which isn't bound by the treaty and has been building up its own arsenal as its economy modernizes — can compete with the U.S.
"It's a threat to whoever you want, and [that] includes China," Mr. Trump told reporters as he left for a campaign trip to Texas. "It includes anybody else that wants to play that game. You can't play that game on me."
The Kremlin said earlier Monday that if the INF collapses, then Russia will have no choice but to "restore balance" in the global power structure.
"This is a question of strategic security. Such measures can make the world more dangerous," Kremlin spokesman Dmitry Peskov said.
"It means that the United States is not disguising, but is openly starting to develop these systems in the future, and if these systems are being developed, then actions are necessary from other countries, in this case Russia, to restore balance in this sphere," he added.
Breaking the deal
Moscow denies that it violated the deal, but both the Obama and Trump administrations have accused Russia of breaking its promises. U.S. and international observers cite in particular the Russian 9M729 cruise missile system as their chief concern.
The system — a U.S. assessment of which has not been made available publicly — is rumored to have a range of about 1,250 miles or more — clearly within the limits covered by the INF. The Obama administration first objected to the missile system in 2014 but opted to retain the treaty.
NATO officials also have said the missile system violates the INF, and Russian aggression in Ukraine in recent years has spurred fears that Moscow once again could be eyeing the deployment of nuclear weapons into Eastern Europe.
Russia has denied that the missile system violates the deal, but critics say the Kremlin has been unwilling to provide answers about the 9M729, what its purpose is and whether it's fully operational. Some Russian military strategists have argued that the 1987 deal benefits the U.S. more than Russia because the U.S. faces no real strategic threat from its near neighbors, Canada and Mexico, the way Russia does all along its perimeter.
"In the absence of any credible answer from Russia on this new missile, allies believe that the most plausible assessment would be that Russia is in violation of the INF Treaty," NATO spokeswoman Oana Lungescu said Monday.
Key U.S. allies, while divided over Mr. Trump's decision to pull out of the deal entirely, were united in urging Russia to provide more answers. They said the burden lies with Mr. Putin to cool international tensions.
"We of course want to see this treaty continue to stand, but it does require two parties to be committed to it, and at the moment you have one party that is ignoring it," U.K. Defense Secretary Gavin Williamson told The Guardian newspaper. "It is Russia that is in breach, and it is Russia that needs to get its house in order."
The government of German Chancellor Angela Merkel took a more cautious stand, saying it regrets the U.S. decision while calling on Moscow to "dispel the serious doubts about its adherence to the treaty that had arisen as a result of a new type of Russian missile."
Foreign Minister Heiko Maas said Mr. Trump's move poses "difficult questions for us and for Europe."
European Union officials took a more measured approach, urging the U.S. and Russia to negotiate in the hopes of preserving the agreement.
There is a six-month waiting period after notification before either party can formally exit the deal. Russian officials said Monday afternoon that they had not received formal notification, though that could come Tuesday when Mr. Bolton meets with Mr. Putin.
Rising China
While the INF applies only to the U.S. and Russia, Mr. Trump's comments Monday made clear that the White House sees China as a key part of the equation.
"China is not included in the agreement. They should be included in the agreement," the president told reporters.
Analysts and U.S. officials said there is good reason for questions about China in the context of the INF.
As Beijing upgrades its military presence, particularly in the South China Sea, the administration fears that the U.S.-Russia deal is giving China a free pass, potentially allowing the rising superpower to get a leg up militarily.
Retired Navy Adm. Harry B. Harris Jr., formerly the head of U.S. forces in the Pacific and now the administration's ambassador to South Korea, told lawmakers this year that the U.S. and Russia are limited by the deal, while China can essentially do whatever it wants.
"Over 90 percent of China's ground-based missiles would violate the treaty," he told a House committee in February.
Regional analysts say the Trump administration's secondary motivation for scrapping the INF could be to give the Pentagon freedom to deploy missile systems to the Pacific to counter China.
"Should Trump follow through on his threat to leave the INF, it would also open the door to potential nuclear build-up in East Asia, as Washington looks to counter growing Chinese presence. A deployment of missiles to Guam or allies Japan and Australia would not be out of the question, with uncertain consequences for the region," David A. Wemer, an assistant director at the Atlantic Council, wrote Monday.
The China state-controlled Global Times wrote a stinging editorial Monday condemning Mr. Trump's INF decision, which it said was clearly made with Beijing in mind.
"Although China has exercised restraint in developing strategic weaponry with no intention of nuclear power competition, the U.S. still fixes its eyes on China doubtfully …," the editorial argued. "Military might and strategic nuclear power have never played an outstanding role in China's foreign relations. But as the U.S. grows more skeptical about China, we face growing strategic risks and have become the main target of U.S. hegemony."
• Dave Boyer contributed to this report.