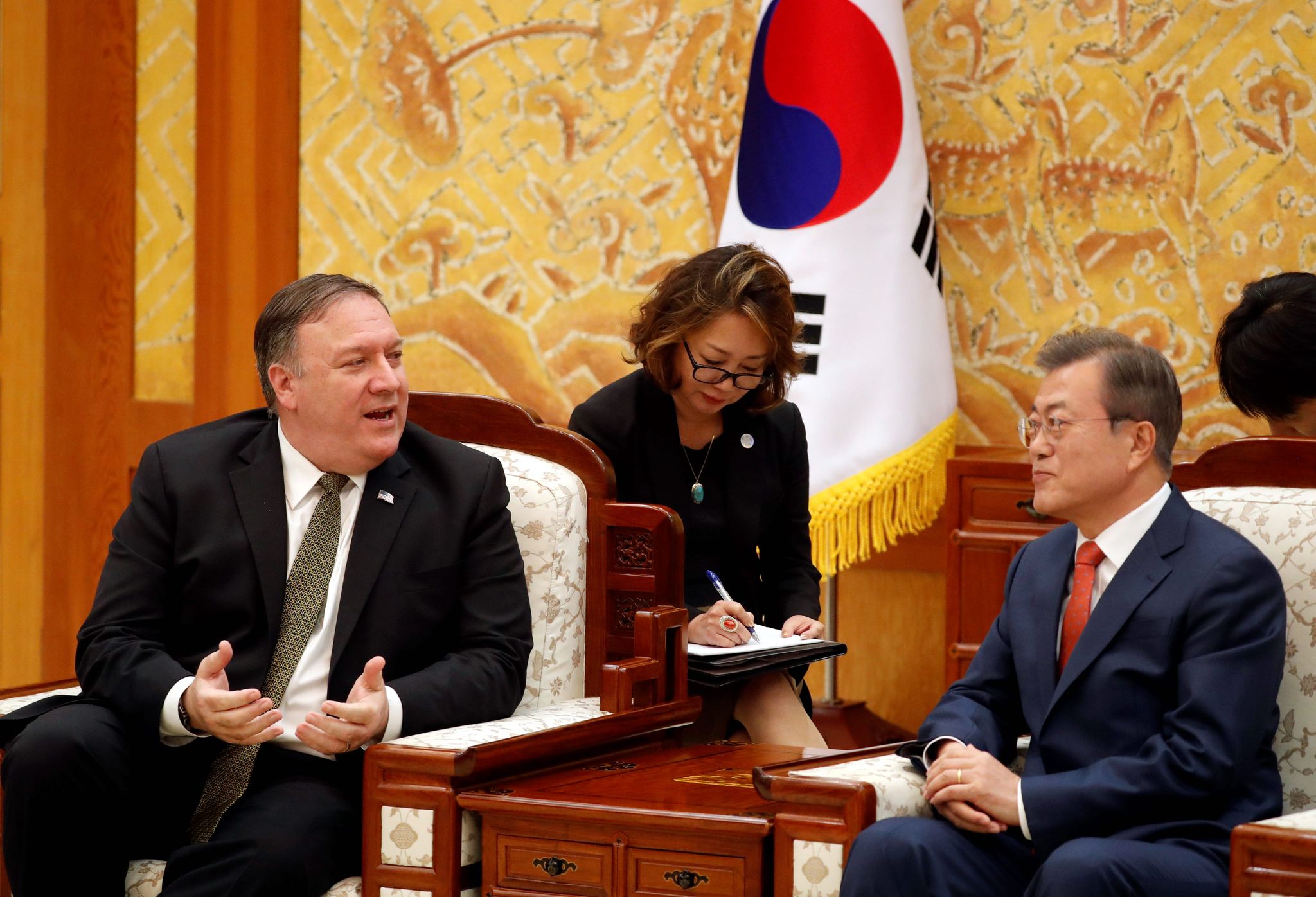 Secretary of State Mike Pompeo on Sunday trumpeted progress in U.S.-North Korean relations on a slew of issues, from efforts to persuade Pyongyang to abandon nuclear weapons to closing in on details f
Secretary of State Mike Pompeo on Sunday trumpeted progress in U.S.-North Korean relations on a slew of issues, from efforts to persuade Pyongyang to abandon nuclear weapons to closing in on details for a second Trump-Kim Jong-un summit.
Mr. Pompeo arrived in Seoul hours after wrapping up his fourth visit to North Korea on Sunday, telling reporters it was a "good trip" and that he and Mr. Kim made strides on the initiatives discussed at June's historic summit in Singapore between the North Korean leader and President Trump.
"We had a good, productive conversation," Mr. Pompeo said during a joint briefing with South Korean President Moon Jae-in. "As President Trump said, there are many steps along the way, and we took one of them today. It was another step forward. So this is, I think, a good outcome for all of us."
According to Associated Press reports, Mr. Kim echoed Mr. Pompeo's optimism. "It's a very nice day that promises a good future for both countries," Mr. Kim said as he, Mr. Pompeo and their respective entourages met for a 90-minute working lunch at the Paekhwawon State Guest House in the North Korean capital.
Prior to the lunch, Mr. Kim and Mr. Pompeo held closed-door talks for roughly 3 hours. Stephen Biegun, U.S. special envoy for North Korea, and Andrew Kim, head of the Korea working group at the CIA, attended as part of the U.S. delegation. Mr. Kim was accompanied by his sister, Kim Yo-jong, and Kim Yong-chol, the North's former top intelligence official and the main conduit for talks between the regime and Mr. Pompeo.
Despite the goodwill expressed by both sides, neither Mr. Pompeo nor Mr. Kim opted to disclose details. During the joint press conference in Seoul, Mr. Moon attempted to press Mr. Pompeo to shed a little light on Sunday's talks.
"Since we have the media present here, I would like to ask you to disclose anything that you can open to the public here," Mr. Moon said. Mr. Pompeo politely declined, telling the South Korean leader, "I don't have much to add but we had a good, productive conversation."
White House critics argue that Mr. Kim and the regime in the North have leveraged Mr. Trump's efforts to engage with Pyongyang to earn legitimacy in the international community while harboring no real intention to follow through on major U.S. initiatives, such as denuclearization on the Korean Peninsula.
However, administration officials argue that Mr. Trump has broken through decades of diplomatic impasses that have stymied previous efforts to establish ties with Pyongyang. But officials have acknowledged the road to reconciliation for North Korea, the U.S. and the international community remains long.
Bilateral talks between North Korea and Washington faltered recently, and Mr. Trump canceled an earlier round of meetings. Sunday's talks marked the first breakthrough in that impasse since Singapore.
Mr. Pompeo's visit to North Korea was "better than the last time [but] it's going to be a long haul" to get Mr. Kim to acquiesce to Washington's demands, a U.S. official tied to Mr. Pompeo's delegation told Fox News on Sunday.
While details were scarce on Sunday's meeting, U.S. officials said the visit focused on the nuts and bolts of the denuclearization process, proffered by the Trump administration in June, as well as the diplomatic parameters for a proposed second summit between Mr. Trump and Mr. Kim.
In Washington, Mr. Trump indicated his willingness to hold a second face-to-face summit with the North Korean leader.
"I look forward to seeing Chairman Kim again, in the near future," Mr. Trump tweeted Sunday, citing the progress he and Mr. Kim made in Singapore, just as Mr. Pompeo was wrapping up his visit in Pyongyang.
Analysts in the U.S. were upbeat but cautious.
"While there is no way Secretary of State Mike Pompeo in roughly 210 minutes with Chairman Kim Jong-un achieved any major breakthroughs Sunday, [he] may have achieved his goal nonetheless: exploring the timing and possible locations for a second U.S.-North Korea summit," said Harry Kazianis, head of defense studies at the Washington-based Center for the National Interest.
Mr. Trump's willingness to secure a second summit with North Korea could lead to an offer to officially end the Korean War, Mr. Kazianis said, in exchange "for a big action towards denuclearization."
"Trump will likely be tempted to hold such a summit quickly, and possibly even in the North Korean capital of Pyongyang, to make history and drive headlines, pointing to another success right before the midterm elections," he said.
The administration has resisted efforts to officially end the war between North and South Korea — the two countries are technically under a 1953 cease-fire agreement — out of concern that a peace deal would increase pressure on the U.S. to remove troops from South Korea.
But Mr. Moon and Mr. Kim have pushed for the end-of-war declaration by December. Mr. Moon has argued that he and Mr. Kim have agreed that such a "political declaration" wouldn't require the pullout of 28,500 U.S. troops stationed in South Korea.