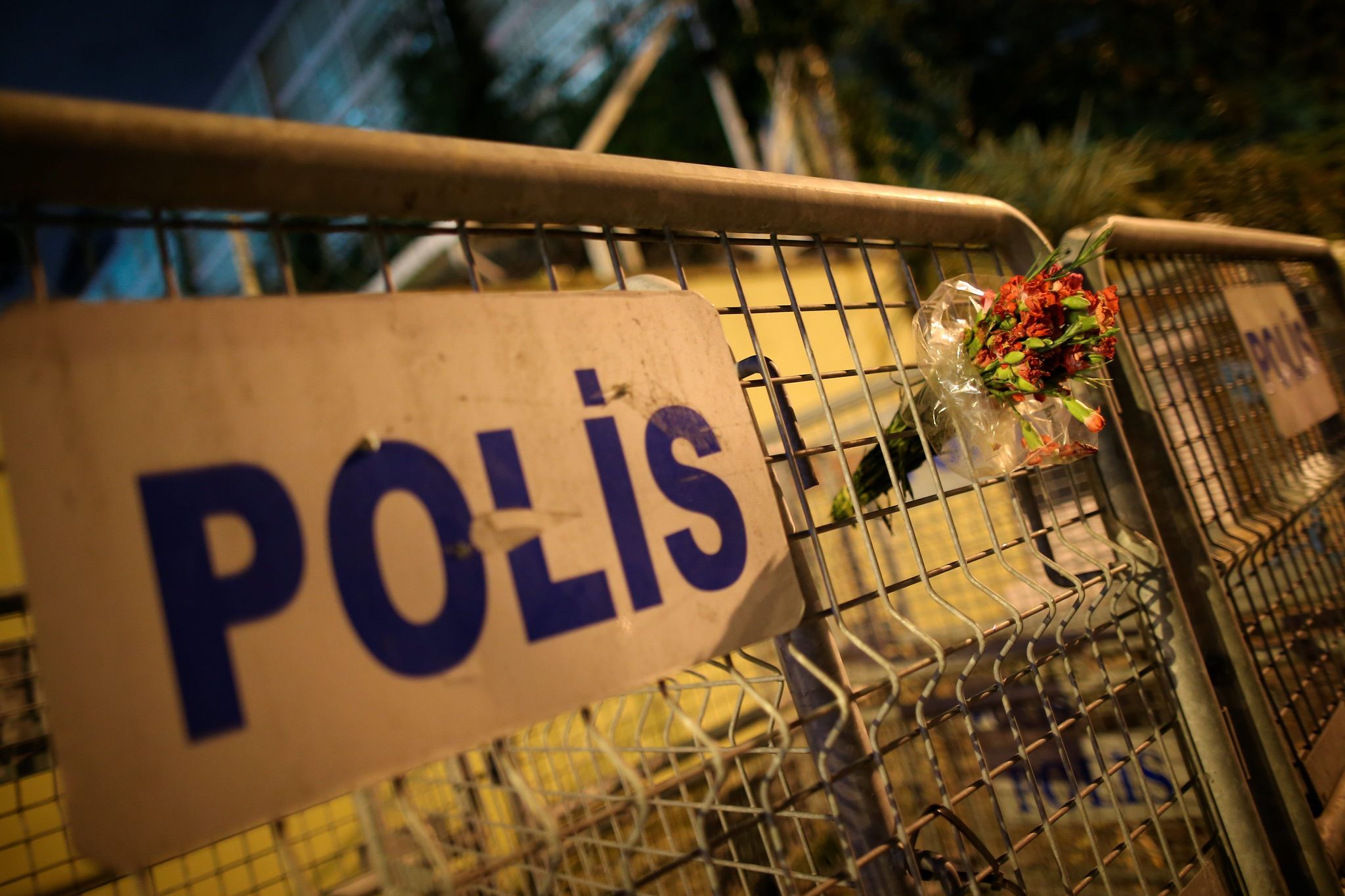 Saudi Arabia on Monday allowed Turkish investigators to search its consulate in Istanbul for clues in the case of missing Saudi journalist Jamal Khashoggi on Monday, in a bid to bring some clarity to
Saudi Arabia on Monday allowed Turkish investigators to search its consulate in Istanbul for clues in the case of missing Saudi journalist Jamal Khashoggi, in a bid to bring some clarity to an incident that has mushroomed into a diplomatic and political crisis for both Riyadh and Washington.
Amid reports the Saudis may be considering admitting at least partial fault in the disappearance — and perhaps murder — of the Washington-based writer, President Trump caused a stir by floating the notion that "rogue killers" — not Saudi government operatives suspected by Turkey — may have murdered the journalist two weeks ago.
With Secretary of State Mike Pompeo dispatched Monday to Saudi Arabia to try to clarify what happened, Mr. Trump told reporters at the White House that Saudi King Salman had "firmly denied any knowledge" of a plot against Mr. Khashoggi, a Saudi citizen and known critic of the kingdom's ambitious and powerful young Crown Prince Mohammed bin Salman.
"I don't want to get into his mind," said Mr. Trump, "but it sounded to me like maybe these could have been rogue killers. Who knows?"
The comments drew immediate criticism in Washington, where some quickly accused Mr. Trump of being spun by the 82-year-old king in order to protect a key ally.
"Been hearing the ridiculous 'rogue killers' theory was where the Saudis would go with this," tweeted Sen. Chris Murphy, Connecticut Democrat and a member of the Senate Foreign Relations Committee. "Absolutely [extraordinary] they were able to enlist the president of the United States as their PR agent to float it."
The confusion highlighted the difficult situation caused by the case for the White House, which has spent considerable capital over the past year cozying up to Riyadh as a prime customer of American arms and a go-to ally against the Mideast's other major power, Iran.
But support for Riyadh is far softer on Capitol Hill, where lawmakers from both parties were calling for punitive action — including sanctions and a cut in U.S. military sales to Riyadh — if the Saudis are found responsible for Mr. Khashoggi's death.
Media frenzy
In Istanbul, a media frenzy ensued around the Saudi consulate building Monday, with Turkish crime scene investigators dressed in coveralls and gloves going into the consulate for the first time since Mr. Khashoggi entered the building Oct. 2 seeking papers he needed to marry his Turkish fiancee. Prior to the arrival of the Turkish investigators, journalists photographed a cleaning crew with mops, trash bags and what appeared to be bottles of bleach walking into the consulate.
Searches of such diplomatic posts, otherwise considered foreign soil under international law, are extraordinary and Monday's development showed the delicate mix of cooperation and rivalry that has marked the Saudi relationship with Turkish President Recep Tayyip Erdogan.
Turkish officials sent shock waves around the world last week by claiming to have audio and video evidence Mr. Khashoggi was killed and dismembered while visiting the consulate on Oct. 2, allegedly by what Turkish media leaks called a 15-member Saudi "hit team," a team that left the country shortly after Mr. Khashoggi disappeared. Saudi officials rejected the allegation as "baseless," but have yet to produce hard evidence that Mr. Khashoggi ever left the consulate.
Mr. Khashoggi's background has only added to intrigue surrounding the case. While he has spent much of the past year writing opinion columns for The Washington Post critical of the Saudi ruling family, he is reported to have had a long career working on and off for the Saudi government, and as an independent journalist in the kingdom. As a younger journalist, he first drew international attention for interviewing a young Osama bin Laden and was reportedly for a member of the Muslim Brotherhood, a controversial Islamist organization known for espousing anti-Western views.
Anthony Cordesman, a Middle East expert at the Center for Strategic and International Studies, said in an analysis Monday that "it seems likely that this was as much the result of a botched kidnapping or a too violent interrogation as a deliberate killing."
Others have cast doubt on Turkish media reports of a Saudi hit squad targeting the journalist.
Steven Cook, a senior fellow specializing on the Middle East at the Council on Foreign Relations, wrote on ForeignPolicy.com last week that the "uncorroborated" account was "quickly accepted as fact."
"This does not mean that they are untrue, but Turkey is a country with a poor record of press freedom, and its leaders and their supporters have embraced disinformation as a political strategy and a tool of foreign policy," Mr. Cook wrote.
Mr. Cordesman wrote that Turkey's real motive "was to attack Saudi Arabia's position and seek to undermine its influence relative to Turkey — as well as improve its own position in the United States."