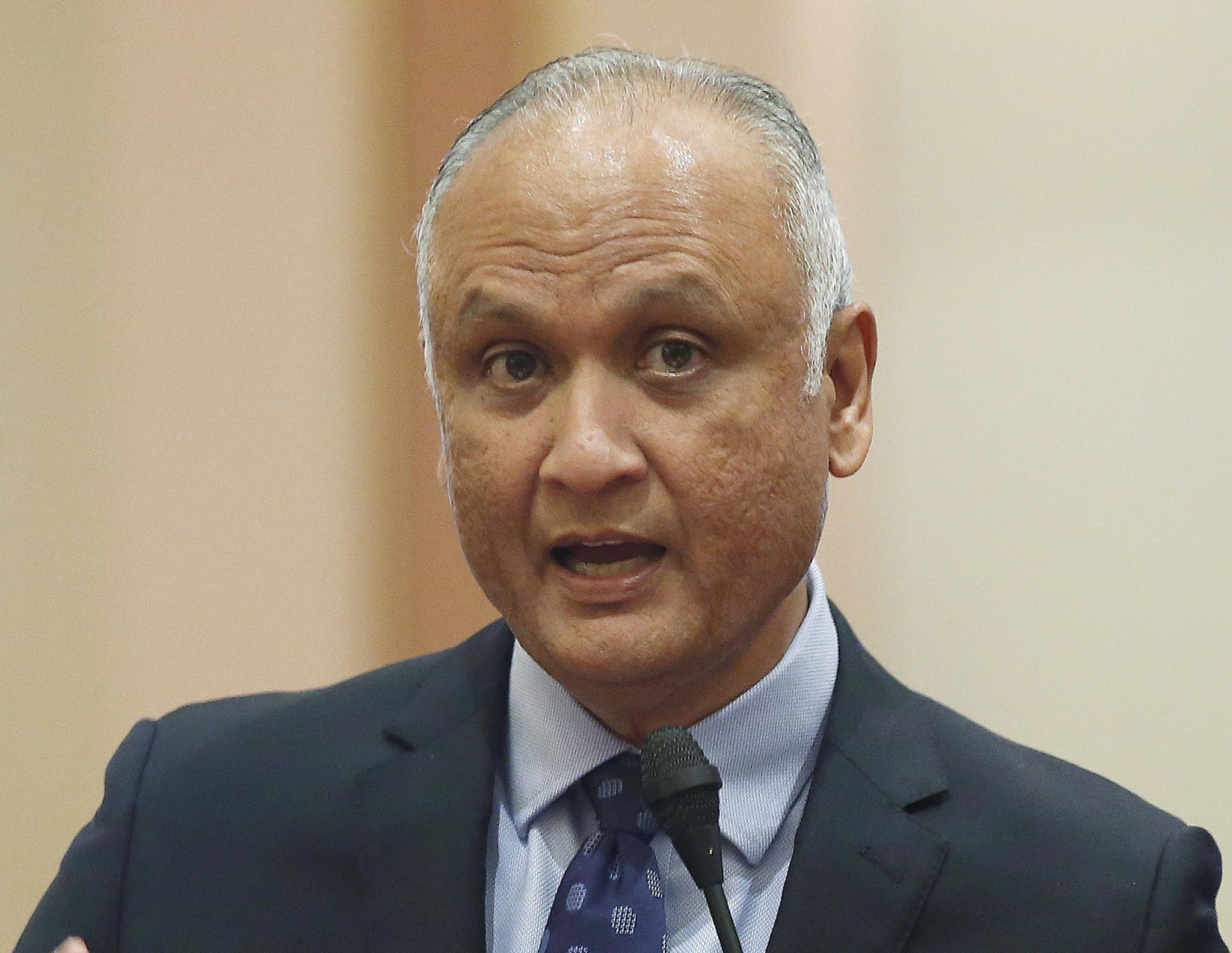 Voters will choose candidates for lieutenant governor, schools chief and other statewide offices in California's June 5 primary. The race for superintendent of public education is shaping up to be an
SACRAMENTO, Calif. (AP) – Voters will choose candidates for lieutenant governor, schools chief and other statewide offices in California's June 5 primary. The race for superintendent of public education is shaping up to be an expensive showdown between unions and charter school advocates. In the crowded contest to become California's next lieutenant governor, several Democrats have emerged as front-runners. Five candidates are vying to replace the state's outgoing treasurer. Meanwhile, incumbents are trying to hold onto their offices in the races for secretary of state and controller.
Below is an overview of those five down-ballot races:
SUPERINTENDENT OF PUBLIC INSTRUCTION
With wealthy donors on both sides of the charter school debate throwing their weight behind candidates, the race for Superintendent of Public Instruction promises to be an expensive contest.
Assemblyman Tony Thurmond, backed by teachers unions, and former Los Angeles schools executive Marshall Tuck, backed by pro-charter donors, are front-runners in the race to be the state's top public education official.
Tuck and Thurmond both want to spend more on public schools and ban for-profit charter schools. Thurmond has also stressed opposing the Trump administration's agenda, including proposals to transfer money from traditional public schools to charter schools. Tuck has emphasized giving families choice in the schools their children attend, including nonprofit charter schools.
Tuck's donors include charter school advocates such as Netflix CEO Reed Hastings, former New York Mayor Michael Bloomberg and KB Home founder Eli Broad. Thurmond's top donors are teachers unions and labor groups.
Thurmond and Tuck are Democrats, but the race is nonpartisan and their party affiliation won't appear on the ballot.
Lily Ploski, an educator and former college administrator, and Steven Ireland, a parent, are also running.
If any candidate wins more than 50 percent of the vote in June, he or she will win the race outright. Otherwise, the top two candidates advance to the November general election.
Tuck ran for the seat unsuccessfully in 2014. Incumbent Tom Torlakson beat him with backing from unions.
LIEUTENANT GOVERNOR
Three Democrats are leading the cash race to be California's next No. 2 executive.
The lieutenant governor serves as a University of California regent, a California State University trustee and as a state lands commissioner overseeing conservation and public access. He or she also acts as governor when the top executive is away.
There's little difference among state Sen. Ed Hernandez and former diplomats Eleni Kounalakis and Jeff Bleich when it comes to policy. All three say they want to lower college costs and oppose oil drilling off the California coast.
They have tried to differentiate themselves by experience.
If elected, Kounalakis would be the first woman to hold the position. She emphasizes her background as a developer and former ambassador to Hungary.
Hernandez, chair of the Senate Health Committee, authored a bill increasing transparency around drug pricing last year. It passed over opposition from pharmaceutical companies.
Bleich, a former aide to President Barack Obama and ambassador to Australia, has touted his experience as a California State University trustee and as a lawyer on civil rights and immigration cases.
As of the April campaign finance filing deadline, Bleich had raised roughly $2 million, Hernandez about $2.6 million and Kounalakis nearly $3 million.
Republican Cole Harris also has a sizeable war chest after putting $2 million into his own campaign.
Three other Republicans – Lydia Ortega, David Fennell and David Hernandez – are running, along with Democrat Cameron Gharabiklou. Two no-party-preference candidates – Gayle McLaughlin and Danny Thomas – are also on the ballot.
California's current lieutenant governor, Gavin Newsom, is running for governor.
TREASURER
Five candidates are vying to replace Treasurer John Chiang, who is running for governor.
The treasurer manages the state's money and sits on the boards of California's public employee pension funds.
Democrat Fiona Ma has the most political experience and the biggest fundraising haul. The State Board of Equalization member and former assemblywoman says she would make socially responsible investments with the state's money.
One of her challengers is Gov. Jerry Brown aide Vivek Viswanathan, a Democrat who says he won't take corporate money.
Two Republicans are running: Cudahy City Councilman Jack Guerrero, who says he would push for lower taxes, and businessman Greg Conlon, who challenged Chiang in the last general election.
Peace and Freedom candidate Kevin Akin is also running.
SECRETARY OF STATE
Secretary of State Alex Padilla faces seven primary challengers in his re-election bid.
Republican attorney Mark Meuser is challenging Padilla on a platform of modernizing California elections. He advocates purging voter rolls of people who have moved or died and conducting audits to ensure ineligible people aren't registered to vote.
Padilla has emphasized his record of sparring with the Trump administration. He often denounces the president's unsubstantiated claims of widespread voter fraud in the state. Padilla also refused to comply with the administration's requests to hand over data on California voters, arguing it was politically motivated.
Democrat Ruben Major, Green Party candidates Michael Feinstein and Erik Rydberg, Libertarian Gail Lightfoot and Peace and Freedom candidate C.T. Weber will also appear on the ballot.
CONTROLLER
Controller Betty Yee faces a Republican challenger in her re-election campaign.
The California controller serves as the state's top accountant and audits various state programs. They sit on several state boards and the State Lands Commission.
Entrepreneur Konstantinos Roditis says he would advocate cutting government spending and auditing high-speed rail, a project Republicans frequently criticize because of rising costs.
Yee says she has promoted tax policies that are equitable for vulnerable populations, including people living in poverty and LGBT people, specifically supporting equal taxation for same-sex couples before gay marriage was legalized.
Peace and Freedom candidate Mary Lou Finley is also running for the office.