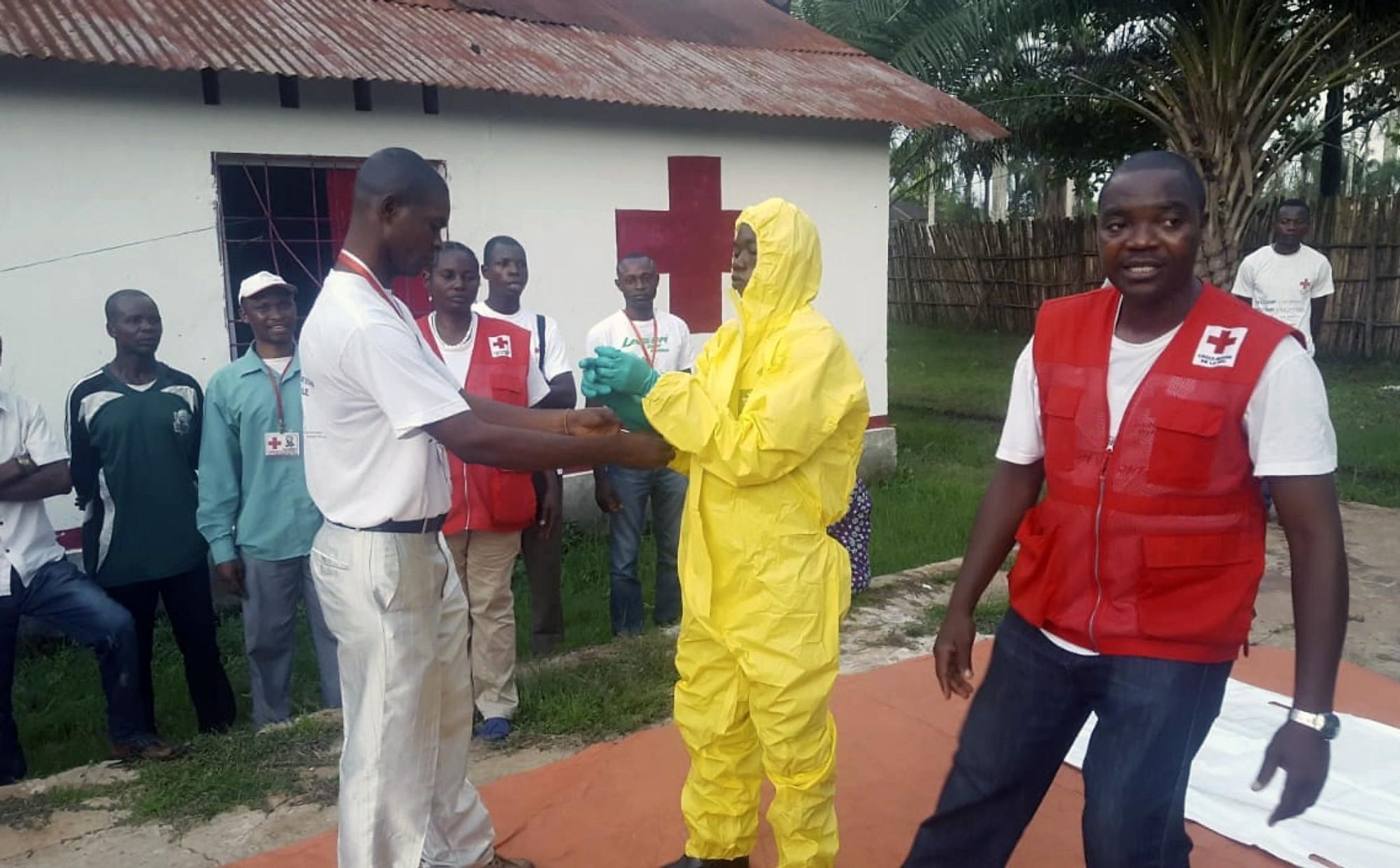 The Ebola outbreak in the Democratic Republic of Congo is not considered a global health emergency — at least not yet, the World Health Organization announced Friday, saying it is hopeful it can stam
The Ebola outbreak in the Democratic Republic of Congo is not considered a global health emergency — at least not yet, the World Health Organization announced Friday, saying it is hopeful it can stamp out the widening outbreak despite fear the disease will travel along the Congo River "highway" to major capitals.
In the U.S., meanwhile, the Centers for Disease Control and Prevention said it has a dozen disease fighters who are ready to help the ground effort, if needed.
The outbreak in the DRC, where Ebola is endemic, has resulted in 45 reported cases, of which 14 have been confirmed, and 25 people have died. Three of the reported cases involve health care workers.
However, the robust response on the ground provides "a strong reason to believe that this situation can be brought under control," said Dr. Robert Steffen, the chairman of WHO's emergency committee.
Vaccination of people at risk of infection will begin Sunday, according to WHO.
Director-General Tedros Adhanom Ghebreyesus said the shots flown in from Switzerland are just one part of the global response to the outbreak centered in the remote area of Bikoro, although one case appeared in Mbandaka, a city of more than 1 million people.
Global responders are setting up mobile labs, isolating patients and tracking down contacts are risk of infection.
"This is a vaccine that we believe can help us," Dr. Ghebreyesus said. "But we will not just rely on the vaccine."The CDC said it submitted the names of 12 people from its Atlanta headquarters to the Global Outbreak Alert and Response Network (GOARN), from which the WHO can draw personnel to support lab diagnostics, vaccinate "rings" of at-risk people and help local health workers protect themselves against infection.
Logistics in the affected region are challenging, however, so responders on the ground will likely have to establish an aircraft link before drafting the CDC's people. If that happens, WHO will pay for their activity through the response network.
As it stands, the WHO is citing the swift response in declining to name the outbreak a public health emergency of international concern.
To constitute such an emergency, it must be "serious, unusual or unexpected" situation that requires an international response to contain, and there must be a high risk of spread across borders.
WHO said it could reconsider its determination if things worsen.
It has warned nine neighboring countries to stiffen their defenses against Ebola — particularly the Central African Republic, the Republic of Congo and Angola, given river routes in the area.
There are dozens of small ports along the Congo River, a major artery that flows from the affected area of DRC to its capital, Kinshasa, and Brazzaville, the capital of the Republic of Congo.
"That, of course, has very significant traffic across very porous borders there," Dr. Steffen said.
Ebola is a serious illness that is transmitted to people from wild animals and spreads from human to human through the bodily fluids of people who exhibit symptoms. About half of those who contract Ebola die from it.
WHO officials said they're looking to avoid a repeat of the 2013-2016 outbreak that killed more than 11,000 people in West Africa.
The organization, the public health arm of the U.N., was criticized for failing to react fast enough to that outbreak, before it spiraled out of control.
Global responders quickly stamped out an Ebola outbreak in DRC last year, and front-line workers on the ground have been supportive during this latest round, according to WHO.
Dr. Ghebreyesus said local officials in Bikoro were worried about WHO personnel who arrived. They thought they might catch Ebola, and didn't expect the foreigners to be there.
"We were really moved and touched, because they are not caring about their life — they were caring about our lives," he said.
Dr. Ghebreyesus praised the officials for being the ones on the front line.
"We have to also share the risk," he said.