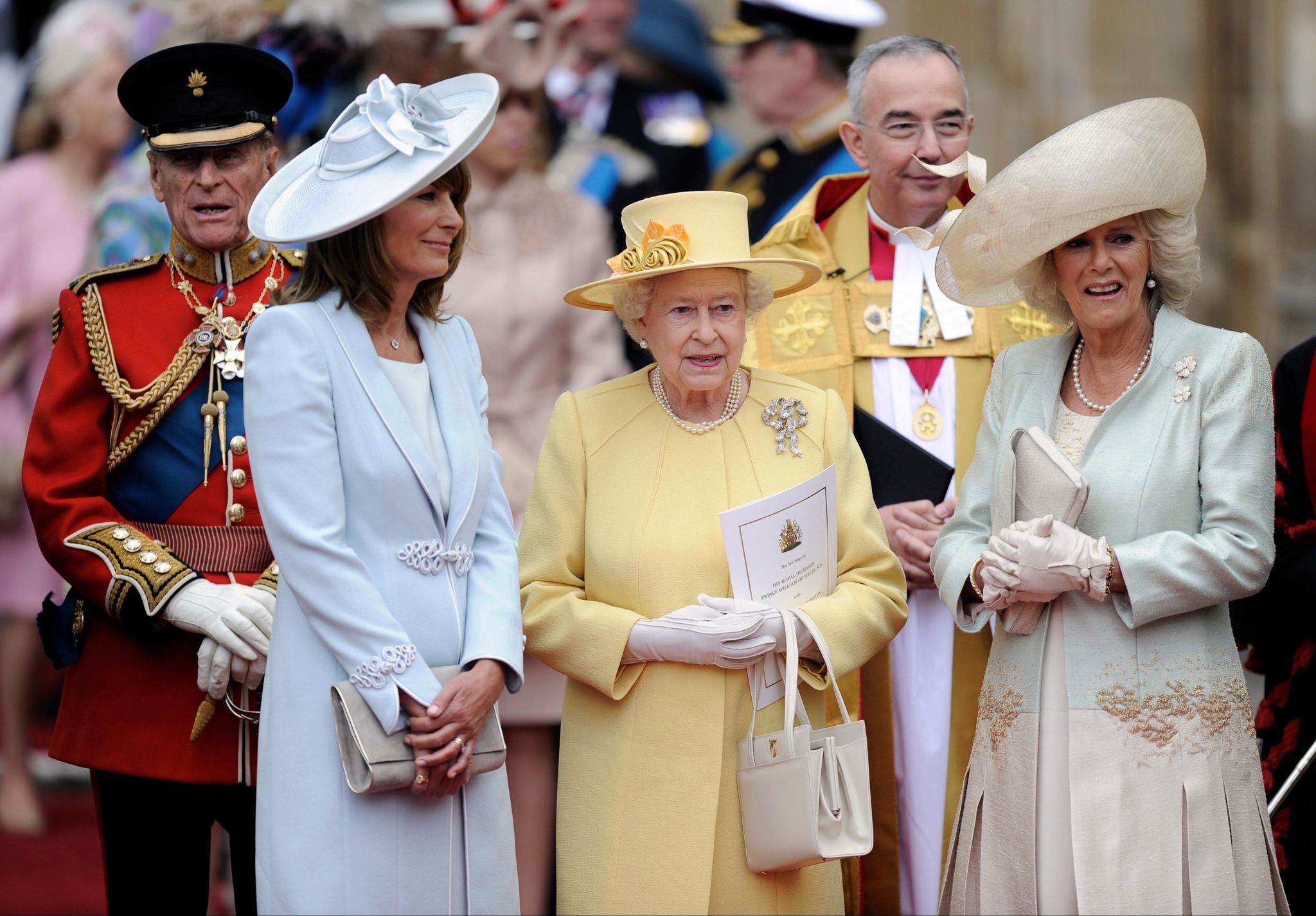 Grab those nude stockings, ladies. You'll be at a royal wedding, after all.
NEW YORK (AP) – Grab those nude stockings, ladies. You'll be at a royal wedding, after all.
While the May 19 nuptials of Prince Harry and Meghan Markle will be a lower key affair than those of Will and Kate, guests at St. George's Chapel will still be expected to follow church and royal protocol, or at the very least basic British tradition, etiquette pros said.
The invitations to 600 guests described the high church dress code thusly: For men, military uniforms, morning coats or lounge suits, otherwise known as business suits in not-wacky colors. For women, "day dress with hat."
The edicts leave plenty of room for faux pas. They also leave room for honoring age-old but not widely known customs, such as choosing straw as the material for hats after Easter.
Some fashion and style etiquette fit for a queen:
DAYWEAR HEMS AND SHOULDERS
Etiquette expert Myka Meier, who trained in London under a former member of the royal household, said dressing for such an occasion in Britain and elsewhere can be very different things.
Women's shoulders should be covered. It's the Church of England, and the groom's grandmother is the head of that institution, FYI. Hemlines shouldn't be shorter than the longest finger when arms are held at the side, and no longer than mid-calf, Meier said.
"You won't see cleavage. You won't see a lot of skin," she said. "At least you shouldn't. It would be seen as disrespectful."
Dresses that are mostly black or mostly white are no-nos. White is reserved for the bride, and perhaps the bridal party. Black remains a color of mourning. Accents, patterns or smaller pops of those colors are fine.
Light prints and patterns are likely, but big and blocky prints are unacceptable, Meier said. It's a spring wedding so expect plenty of pastels and traditional seasonal prints such as florals.
International guests clearly are welcome to wear their country's equivalents.
"At the end of the day you just want to match the formality of the event you're attending," Meier said.
HATS: BIGGER ISN'T ALWAYS BETTER
Royal weddings can seem like a hat free-for-all.
"Hats are a sign of festivity for a British wedding. They are kept on inside the church, but people should be careful of the people sitting behind them," said Meier, who specializes in international social and business etiquette and protocol.
"It's not the Kentucky Derby. No huge brims. Nothing too high," she said.
Fascinators – headpieces decorated with bows, flowers and more – are popular and perfectly acceptable, lending an air of whimsy.
"Whimsy as opposed to crazy is fine," said celebrity and society stylist Diane Lloyde Roth, who has been dressing Americans for European formal events for more than 30 years.
Meier said women often start with the hat when planning their outfits. A rule of thumb from Lloyde Roth: "Make sure your hat and your outfit are going to the same event."
The huge hat worn by Princess Beatrice to the wedding of Harry's brother, Prince William, and Kate Middleton lives on as a cautionary tale. Royal watcher Anne Chertoff called the high bow on Beatrice's fascinator "ridiculous in so many ways, but at least you could see through it."
SHOES MATTER
The wedding is a formal church affair but also a day event. That doesn't mean anything goes on the feet. This isn't a garden party.
Forget open toes and wedges. Slingbacks are also considered too informal, Meier said.
"You want something that is about 4 inches maximum," she said. "The walk in is not going to be easy. There are lots of cobblestones even though there will be different types of carpeting."
And stilettos? Forget about it.
HANDBAGS
They should be small.
"There are about 800 seats in St. George's Chapel but it's very tight seating. There isn't any place to put large bags," Meier said.
Clutches or other handbags that fit easily on laps or just slightly to the side will rule the day.
Kate Middleton rolls that way routinely. The queen also doesn't tote around a tote.
THE MEN
Most will be in morning suits, Meier said. They have coattails and they often come in grey, navy and black. There's also a waistcoat, like a vest, and a regular tie. Pinstripes are sometimes involved in trousers.
As for lounge suits, the darker they are the more formal, which is true for morning suits as well. No linen suits, guys.
Shoes will be polished like they've never been polished before. And the men will likely play with color and patterns in ties, pocket squares and socks. But no brown belts or brown shoes, considered less formal than black ones.
Medals for those wearing dress military uniforms are common. So are medals of distinction of other kinds pinned to morning suits.
DON'T OVERDO
"Americans forget that sometimes," said Lloyde Roth, based in New Canaan, Connecticut. "You're not the princess."
Makeup should be minimal, along with accessories. Savvy guests will let the hat do the talking, she said.
"Do a great bold lip with the hat. That balances everything," Lloyde Roth suggested.
In terms of accessorizing, she offered the wise words of Coco Chanel: "Before you leave the house, look in the mirror and take one thing off."
THE HOLLYWOOD FACTOR
"The only way there will be a culture clash would be if the Hollywood contingent tried to out-royal the royals," Lloyde Roth said. "They should remember, this is the upper crust. They own their jewels and the clothing they're wearing. They don't turn back into mice at the stroke of midnight."
It is said the queen is not fond of skinny straps on dresses or revealing attire. Guests won't change for a castle reception immediately following the wedding, but there is a private evening party at Frogmore House just south of Windsor Castle. If it's black tie, as was the night party for Will and Kate, floor-length gowns are called for.
"They can be strapless or sleeveless or long sleeves, based on the personal style preference of the woman," Meier said.
Chertoff agreed, predicting fabulousness of all kinds come nightfall, including plunging necklines and high slits.
The queen skipped the evening reception for Will and Kate. She'll likely do the same this time, so no trigger alerts there. What happens at Frogmore House stays at Frogmore House.
"The cameras will be off," Chertoff said. "It's all behind closed doors."
___
For complete coverage of the royal wedding, see: https://apnews.com/tag/Royalweddings
___
Follow Leanne Italie on Twitter @litalie