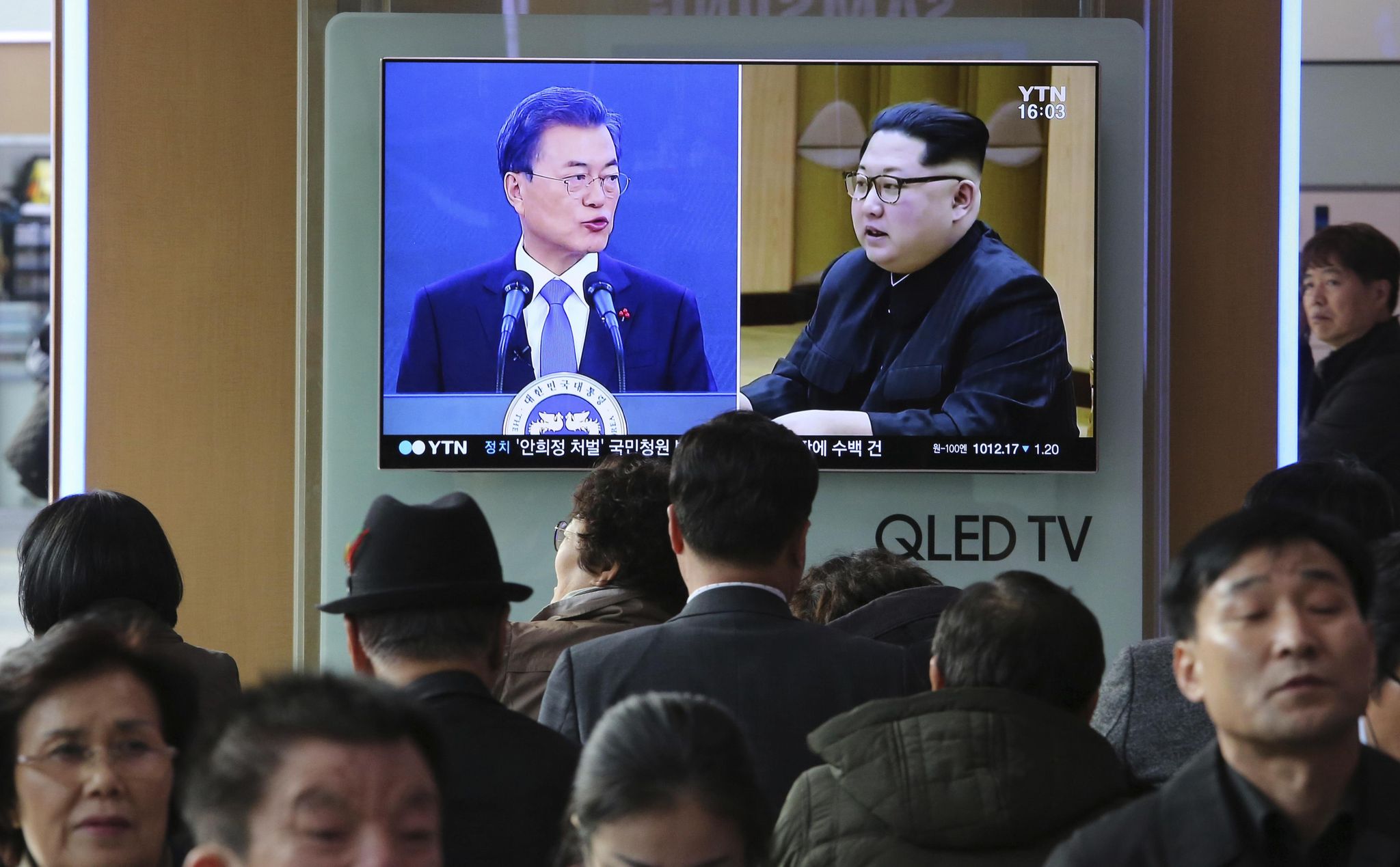 The prospect for a historic summit between President Trump and Kim Jong-un is rising, but it won't happen if things don't go smoothly Friday when the North Korean leader first meets with South Korean
SEOUL — The prospect for a historic summit between President Trump and Kim Jong-un is rising, but it won't happen if things don't go smoothly Friday when the North Korean leader first meets with South Korean President Moon Jae-in for their own high-stakes one-on-one meeting.
North Korea says it is ready to halt testing of its nuclear weapons programs indefinitely, but Mr. Moon is still under immense pressure to get Mr. Kim to publicly declare that he is willing to discuss total abandonment and dismantling of the weapons he already has. Washington has drawn the red line for serious talks toward sanctions relief to proceed.
South Korean officials said Mr. Kim signaled such willingness to them during a private meeting last month, but the North Korean leader hasn't said anything in public.
"So President Moon knows that if he cannot get some kind of denuclearization statement from Kim on April 27, people will consider the summit a failure," said Joonhyung Kim, a regional geopolitics researcher at South Korea's Handong University who is part of a circle of analysts advising the Moon administration.
"We need to hear it from Kim Jong-un's mouth," Mr. Kim told The Washington Times.
The likelihood of a Trump-Kim summit even without a clear denuclearization statement from Mr. Kim seemed to get a boost with the revelation last week that CIA Director Mike Pompeo held a secret meeting with the North Korean leader in Pyongyang early this month.
But concern over the issue has persisted amid Pyongyang's claim that it is willing to scrap a major nuclear test site and indefinitely halt nuclear and missile tests because it is confident it has achieved its goal of developing a nuclear arsenal that can ward off attacks and ensure the survival of the regime.
Denuclearization is just one of the major issues looming over the Moon-Kim summit Friday in the village of Panmunjom, along the heavily guarded Demilitarized Zone that has divided the Korean Peninsula since the armistice that ended the 1950-1953 hostilities.
Another major question centers on the extent to which Mr. Moon makes promises to the North that diverge from views of hard-liners in the Trump administration. Such promises could relate to Pyongyang's desired retention of intercontinental ballistic missiles or the speed at which the Kim regime can expect relief from crippling international sanctions.
Mr. Moon, who has long advocated a policy of outreach to Pyongyang, may simply seek to keep talks alive with the North, regardless of pressure from Washington.
Where the Trump administration is seen to desire an "all-or-nothing deal" that can be reached quickly, many here say Mr. Moon is committed to a slower approach — one that has denuclearization as a goal to be achieved over a significant time frame.
One senior official, who spoke on the condition of anonymity, said Mr. Moon's advisers are confident that they have persuaded the Trump administration to go along with this "very gradual approach that will eventually lead to reaching our collective goal of denuclearization."
The official said the "situation is complex," with Mr. Moon playing the delicate role of "mediator between Trump and Kim."
Mr. Moon's conservative critics here fear that the South Korean president may be overconfident and risk losing Washington's trust by yielding too eagerly to Pyongyang. "I wouldn't be surprised if some of these [expletives] in the Moon administration are talking more to the North Koreans than they are to the Americans at this point," one former high-level official told The Times.
But most South Korean analysts say Mr. Moon knows what's at stake.
"President Moon is going to be trying with maximum effort to persuade Kim Jong-un to keep his commitment to denuclearize and to not step back from the commitment he already made in private to a special delegation that went to Pyongyang," said Paik Hak-soon, a top North Korea specialist with the Sejong Institute think tank outside Seoul.
But Mr. Paik said a range of other issues will likely be discussed Friday, including a push to set clear guidelines for regular high-level military-to-military communications between North and South, with the goal of avoiding a clash should the diplomatic push melt down.
'Anything is possible'
Mr. Paik said he is confident that the Moon-Kim summit could set the stage for a major and swift breakthrough in the subsequent Trump-Kim summit, especially because it won't be mired by the presence of other regional powers.
The last major attempt at diplomacy with North Korea — the yearslong "six-party talks" that melted down in 2009 — involved high-level representatives from China, Russia, the U.S., Japan and South Korea.
"This bilateral format this time around, coupled with the timing of this U.S.-North Korea summit taking place at a quite early stage of the Trump administration's tenure, and also the Trump administration's special leadership style, could give both sides a lot of confidence in making a deal," said Mr. Paik. "Anything is possible in this format if the personal chemistry is there.
"Getting Trump and Kim alone together gives an incentive to both sides," he said. "Donald Trump thinks that in a bilateral format he can exercise whatever power he has to induce Kim Jong-un to make concessions, and Kim Jong-un might be in the same position, thinking he can talk to American leadership directly and put all the key issues on the table and do a comprehensive package deal."
The bilateral approach also leaves China and Japan on the outside looking in, which some here argue has been Mr. Moon's strategy all along. "I was advising Moon on foreign policy in last year's election," said Mr. Kim, the geopolitics researcher at Handong University. "The idea is that the smaller the number of players the better."
Jun Bong-geun, who oversees security and unification studies at the Korea National Diplomatic Academy in Seoul, suggested that even if North Korea is only posturing in the talks, Mr. Kim will have to commit quickly to something in a one-on-one setting with Mr. Trump.
"If the North Koreans want to truly buy time, they're going to have to come up with some kind of denuclearization measures," said Mr. Jun, although he added that he won't be surprised if Pyongyang first makes an offer to get rid of its ballistic missiles as a way to delay a serious confrontation on the nuclear issue.
Others warn against believing in anything that the North Koreans bring to the table.
"I have experience dealing with them, and I know they are not simply going to get rid of their nuclear weapons," said Kim Hee-sang of the Korea Institute for National Security Affairs think tank in Seoul.
'Missed chance'
A former longtime adviser to the South Korean government, Mr. Kim told The Times that "the simple reality is that the North Koreans will be disingenuous throughout these upcoming summits."
He added that North Korea's leader may offer to break up his nuclear program but said the offer will be superficial and that Pyongyang will make it known that pieces of the program can be hidden and restarted in the future.
On a separate front, Mr. Kim expressed concern that Mr. Moon may be planning to offer the North Korean leader something well beyond the American comfort level regarding the size or positioning of U.S. forces stationed in South Korea.
Pyongyang has long asserted that it would consider denuclearization only in conjunction with the departure of the 30,000 U.S. forces deployed to the South since the Korean War ended in a stalemate.
Although the Moon administration claimed to have received back-channel assurances that Pyongyang is willing to drop the demand for troop withdrawal, Mr. Kim said there is reason for concern.
"I don't think Moon will make promises that cannot be kept, but I am concerned because everyone knows that when it comes to serious peace negotiations on the Korean Peninsula, the [troops] issue always arises," he said. "There should never be a case where the U.S. military leaves South Korea."
Mr. Kim added flatly that whatever happens with the upcoming talks, the long-term policy toward North Korea should be some form of regime change.
Mr. Kim lamented that the downside of the push for peaceful negotiations is that it has given a hue of legitimacy to the regime in Pyongyang and, as a result, pushed the "regime change issue off the table."
"The Trump administration has made an effective outcome here so far by making North Korea think they are in a very severe and desperate situation and that they have no choice but to try talking," he said. "But when Trump brought about the 'maximum pressure' campaign of the past year, there was a chance to bring about regime change in Pyongyang.
"Right now," he said, "we've missed that chance."