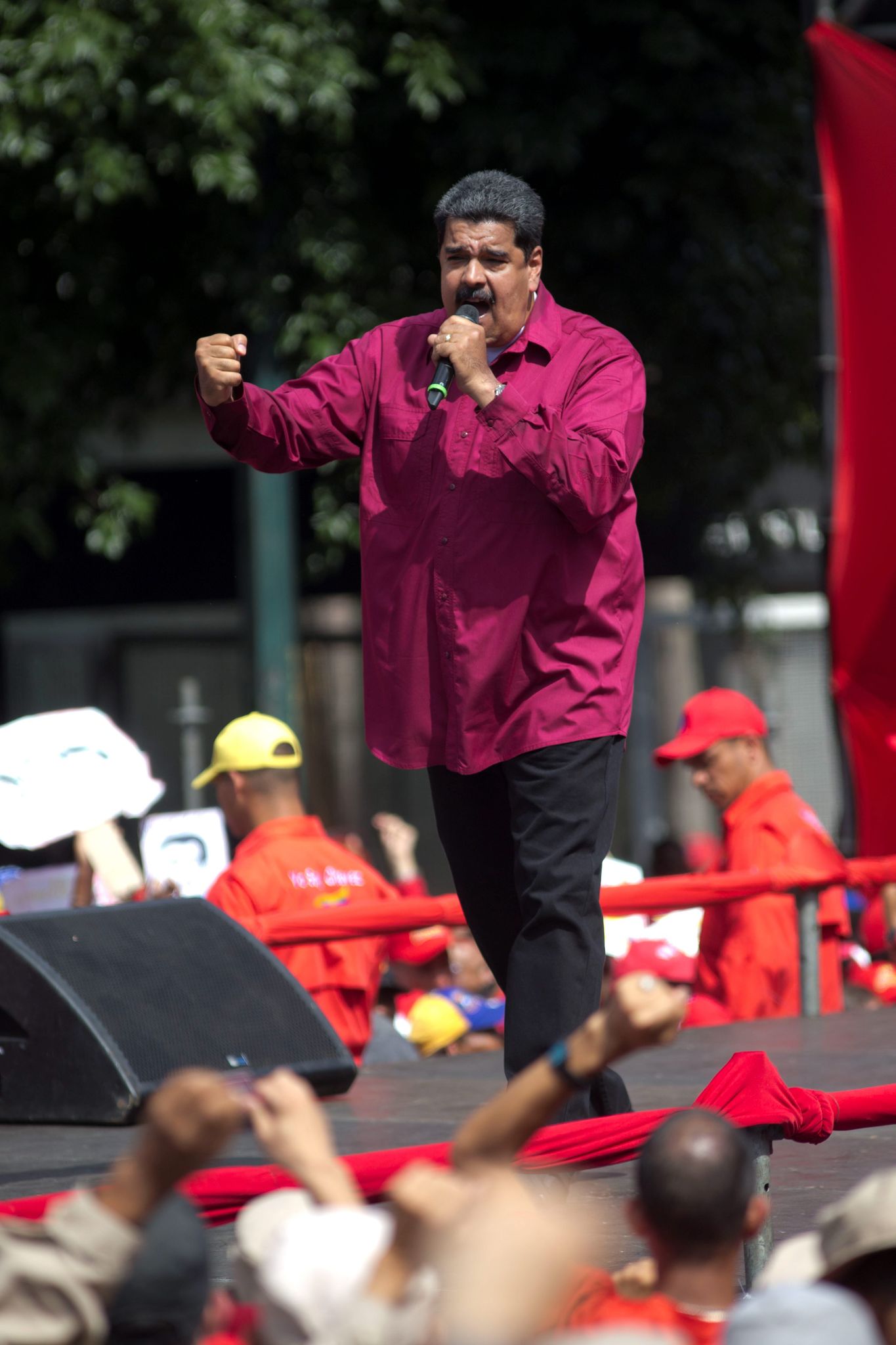 One is a former bus driver and union leader with a soft spot for Cuban-style fatigues and Cuban-style political authoritarianism. The other is a millionaire heir and soccer czar, a onetime business pa
Buenos Aires | One is a former bus driver and union leader with a soft spot for Cuban-style fatigues and Cuban-style political authoritarianism. The other is a millionaire heir and soccer czar, a onetime business partner of Donald Trump who favors suits from this city's finest tailors and policies to lift up the country's once-battered private sector.
And while they may share a title as presidents of their respective nations, the rift between Venezuela's Nicolas Maduro and Argentina's Mauricio Macri has never been greater, defining the ideological polarization that increasingly marks South American politics these days. With Brazil and Colombia in political limbo as they await national elections, the rebound of Mr. Macri and a number of center-right governments in South America is posing a direct challenge to the old-line leftism embodied by Mr. Maduro and his late predecessor and charismatic mentor, Hugo Chavez.
The ideological divide is matched by a personal animosity. Mr. Macri's disdain for the embattled Mr. Maduro was on full display late last month when he all but called for his counterpart's ouster, telling reporters he wants "what's happening in Venezuela to come to an end."
His comments came days after Argentina had announced it was joining Brazil, Chile, Colombia, Paraguay and Peru in pulling out of the Union of South American Nations, or UNASUR — a brainchild of Chavez.
The final straw — largely symbolic as the bloc had effectively lain dormant for years — seems to have been Caracas' refusal to accept Argentine diplomat Jose Octavio Bordon, a Macri nominee, as its next secretary-general.
The volatile Mr. Maduro, facing a massive economic and demographic crisis at home as Venezuela's oil-financed social welfare system nears collapse, meanwhile, characterized Mr. Macri and the region's other center-right presidents as puppets of Washington.
"Some leaders of the right let themselves be pressured by the U.S. government to destroy UNASUR," he said en route to a meeting with new Cuban President Miguel Diaz-Canel. "[If] some right-wing government tries to stab it and let it bleed to death, we social movement and revolutionaries of South America will defend it."
Colorful as they may be, by Mr. Maduro's standards, the comments were rather tame. In one of his infamous diatribes last year, Venezuela's head of state had labeled Mr. Macri a "sewer rat" espousing to be the "godfather of the Venezuelan fascist right."
Imitating Chavez
In lashing out, Mr. Maduro seeks to imitate his mentor Chavez, said veteran Venezuelan diplomat Oscar Hernandez Bernalette, though Mr. Maduro's approval numbers lag his idol's maximum popularity by some 40 percentage points.
"Maduro's attitude is little more than a bad copy of Chavez's attitude when Chavez had an audience, but he doesn't have that same audience," said Mr. Hernandez Bernalette. "His rhetoric likely reaches — and pleases the ears of — his closest collaborators and the few who back him."
Most Venezuelans, though, are bewildered by the president's crude rhetoric and intemperate attacks, said Mr. Hernandez Bernalette, now a prominent columnist for the El Nacional newspaper.
"Mr. Maduro's reaction always is to insult, to attack whatever president's turn it is — in this case Macri," he said. "Venezuelans overall are mortified every time the head of state, of whom one expects the highest levels of conduct, [does that]."
But beyond personal grudges, Mr. Macri is carving out a role for himself as champion a more pragmatic, conservative South America that is not instinctively hostile to the private sector, said Gustavo Cardozo, an analyst at the Argentine Center of International Studies in Buenos Aires.
"He [wants to] focus on trade relations untainted by the kind of extremist ideology the Maduro regime has laid out," he said. "Maduro constantly attacks Europe and the United States, which are very important markets. Logically, you can't be in sync with a regime that turns its back on international trade."
Mr. Macri's domestic critics, meanwhile, see a conspiracy to reverse South American integration behind the UNASUR exit, as well as behind last year's suspension of Venezuela from the Mercosur trade bloc.
"All that was halted to return our country to the great powers' axis of dependency," said Alicia Castro, an Argentine ambassador to Venezuela under Mr. Kirchner and Ms. Fernandez. "The goal is very clear: to destroy our region's economies."
"It's regrettable that Argentina is aligning itself with Trump to harass and hit Venezuela," she said. "In Venezuela, there is no 'interruption of the democratic order' — that's Washington propaganda Macri repeats like a parrot."
With the rhetoric showing no signs of cooling, though, the next showdown between South America's rival presidents is already under way, as Mr. Maduro's plan to hold early presidential elections on May 20 — over the objections of the Venezuelan opposition parties — did not come without commentary from Buenos Aires.
"We won't accept the results because that election doesn't have any validity, however much Mr. Maduro insults me," Mr. Macri warned last month. "We won't recognize [him] as a democratic president because there hasn't been any democracy in Venezuela for quite a while."
"Who is Macri to determine what happens in Venezuela?" Mr. Maduro, predictably, shot back. "A dummy of imperialism."