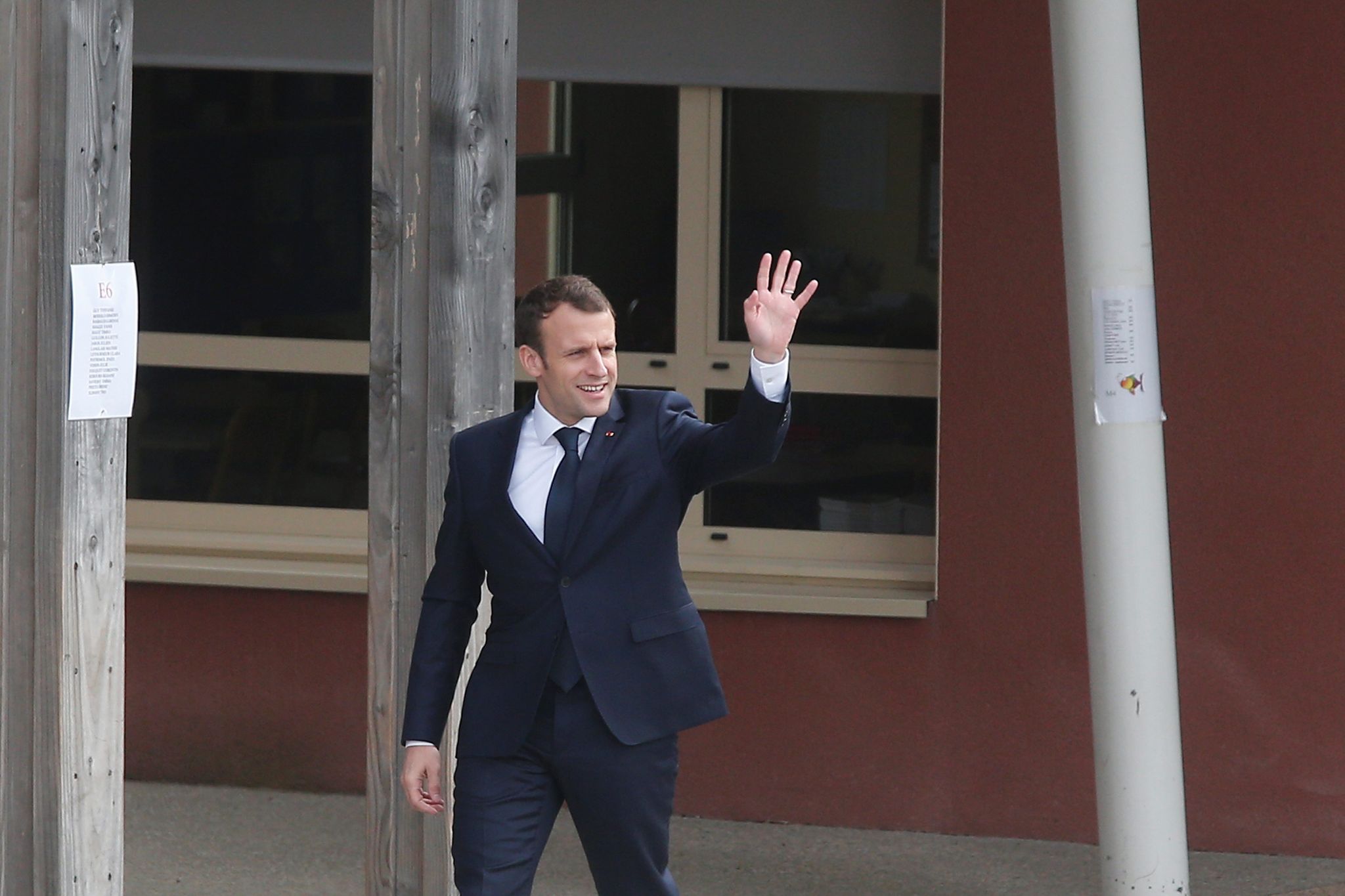 Behind the pomp and circumstance of French President Emmanuel Macron's visit to Washington starting Monday — including President Trump's first state dinner for a fellow world leader since taking offi
Behind the pomp and circumstance of French President Emmanuel Macron's visit to Washington starting Monday — including President Trump's first state dinner for a fellow world leader since taking office — lies a calculated and hard-nosed campaign to position Paris as the White House's best friend in Europe.
Much is riding on the visit by Mr. Macron, the banker and political neophyte who captured the French presidency last year, topped by the fate of the Iran nuclear deal that Mr. Trump is poised to kill next month and that Mr. Macron desperately hopes to save.
The three-day visit will be a high-profile test of Mr. Macron's studied charm offensive with the unpredictable American president, weighing whether the young leader can parlay his personal rapport with Mr. Trump into White House moderation on issues such as the Iran deal and Washington's new skepticism over such internationalist causes as climate change and free trade.
With German Chancellor Angela Merkel coming to Washington at the end of the week, European leaders will get their last best chance to persuade Mr. Trump to change his mind, or at least hold his fire as EU capitals try to devise new penalties for Tehran that could keep Washington in the deal.
Iranian Foreign Minister Mohammad Javad Zarif, on a visit to New York, increased the pressure on Mr. Macron Sunday by saying Washington's withdrawal from the pact would only further diminish the U.S. standing among its allies and adversaries alike.
Iran is ready to restart its nuclear program if the Trump administration leaves the 2015 nuclear agreement and reinstates sanctions, Mr. Zarif said.
"We have put a number of options for ourselves, and those options are ready, including options that would involve resuming at a much greater speed our nuclear activities," he added.
Mr. Macron has unexpectedly emerged as one of the more moderate and accepting voices within the European Union concerning some of Mr. Trump's unorthodox foreign policy stances.
The 40-year-old French president has repeatedly defended Mr. Trump's credibility on the world stage from criticism on several fronts, including his immigration ban from several Muslim countries, claims that Washington is abandoning its role as defender of the postwar liberal order, and views that he is creating a vacuum that China and Russia are filling.
Other Western European leaders have struggled to get a read on Mr. Trump or even establish a personal working rapport, but the young English-speaking Mr. Macron has proved more deft.
"I am not going to judge what should be your president, or to consider that because of these controversies or because of these investigations your president is less credible," Mr. Macron told The Associated Press, dismissing any attempt to be drawn into the fierce U.S. controversy over Russian meddling in the 2016 presidential election.
But Mr. Macron will be under intense scrutiny back home to prove that his personal bonhomie with Mr. Trump translates into policy successes, starting with the May 12 deadline under which Mr. Trump must decide whether to stay in the multilateral Iran nuclear deal.
Policy payoffs
Although the visit will undoubtedly include all the trappings of a high-level diplomatic visit between two longtime allies, political observers in the U.S. and Europe will be keeping a keen eye on how the leaders interact over several issues on which they have found themselves at odds.
The two leaders are certain to discuss the impacts of Mr. Trump's decision to withdraw from the Paris climate accord, which France has championed but the Trump administration argues unnecessarily regulates American industries and international companies. Mr. Macron is also a champion of free trade, while Mr. Trump has questioned the North American Free Trade Agreement, killed an Asian trade deal and put in deep freeze a proposed free trade accord with the European Union.
But no topic will likely loom as large between the two leaders as Washington's reported desire to withdraw from the 2015 nuclear deal with Iran that the Obama administration strongly supported.
Mr. Trump and his national security team, led by newly installed National Security Adviser John R. Bolton, have repeatedly called for the dissolution of the nuclear deal despite the continuing support of other world powers, including Britain, France, Germany, Russia and China.
If Mr. Trump effectively withdraws from the deal, the U.S. will reimpose sanctions that Iran says negate the main purpose of the accord.
Proponents of the pact, including Mr. Macron and Ms. Merkel, say there is no tangible proof that Tehran has failed to comply with the nonproliferation elements of the Iran deal, even if Iran continues to test other military systems and remains a destabilizing force for American allies across the Middle East.
More pointedly, Mr. Macron is expected to argue that the U.S. and its Western allies will have no good option to restrain Iran's nuclear programs if Mr. Trump takes Washington out of the deal.
French officials warn there is "no plan B" if the Iran deal collapses. Mr. Macron himself asked on Fox News, "What do you have as an alternative?"
Iran's Mr. Zarif said Sunday that the Bolton appointment showed Mr. Trump would rather overthrow the government in Tehran that negotiate with it.
The U.S. "never abandoned the idea of regime change in Iran," he said, adding that some are just "more explicit about stating it."
France, Germany, the United Kingdom and other key European allies say the deal is the best chance the West has to keep Iran from becoming a nuclear power, potentially threatening the U.S. and Israel with an atomic attack. A furious negotiation is underway to see if the Europeans can formulate a new set of sanctions and penalties for Tehran outside of the nuclear deal to persuade Washington to stay in it.
Mr. Macron, who treated Mr. Trump to an envy-inducing military parade and a dinner in the Eiffel Tower during his trip to Paris last year, has shown a talent for gestures that impress the billionaire former real estate developer.
The French president plans to present Mr. Trump with an oak tree sapling from the site of one of the first World War I battles involving American troops, the Battle of Belleau Wood, The Associated Press reported Sunday.
It's a sign of appreciation for the sacrifices America has made for France — and a subtle nod to Mr. Macron's environmental agenda.
He wants it planted in the White House gardens.
• This article is based in part on wire service reports.