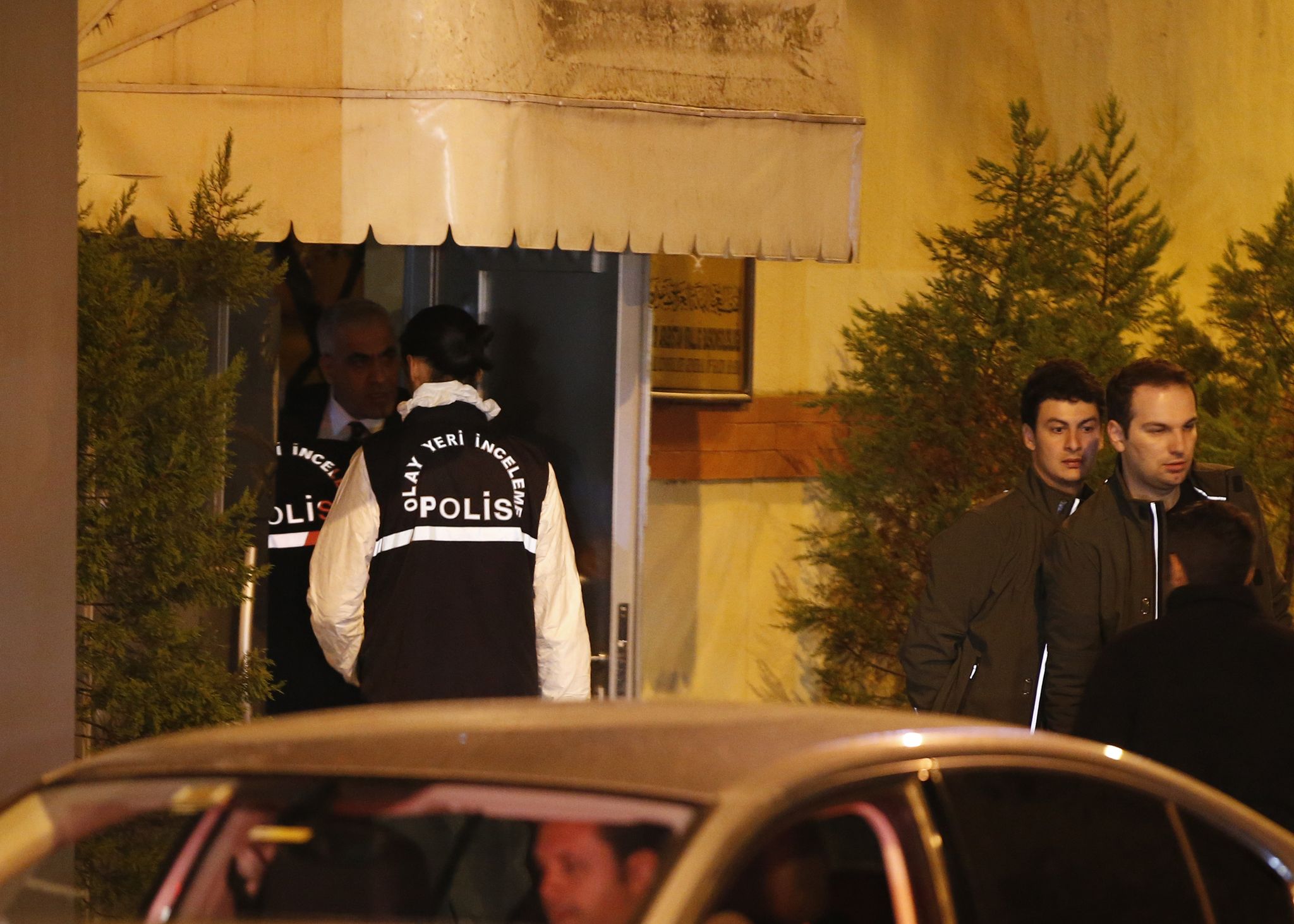 While investigators in Turkey searched the Saudi Consulate in Istanbul seeking clues to the fate of missing Saudi journalist Jamal Khashoggi and Secretary of State Mike Pompeo was heading to Riyadh se
A diplomatic crisis engulfing the world's most critical oil supplier was the last thing the Trump administration needed.
While investigators in Turkey searched the Saudi Consulate in Istanbul seeking clues to the fate of missing Saudi journalist Jamal Khashoggi and Secretary of State Mike Pompeo was heading to Riyadh seeking answers of his own, the bigger question for the Trump administration was how to manage an incident that could irrevocably tarnish a critical ally at a critical time.
The Khashoggi crisis has erupted as the U.S. tries to enforce a total ban next month on oil exports by Saudi archrival Iran, a critical part of the strategy to pressure Tehran after President Trump's withdrawal from the 2015 nuclear deal still backed by most other countries. That means the U.S. needs Saudi Arabian petroleum more than ever, narrowing America's options to punish the kingdom for its suspected role in Mr. Khashoggi's disappearance.
Regional analysts say a U.S. move to impose economic sanctions over allegations that Mr. Khashoggi was tortured, killed and dismembered inside the Saudi Consulate could send world oil prices surging to a record high.
Saudi Arabia's global image overhaul, spearheaded by the young, ambitious — and some say reckless — Crown Prince Mohammed bin Salman, stands at a crossroads.
The prince's modernizing agenda is clouded by self-inflicted crises in Yemen and Qatar, a struggle for regional dominance with Iran, and the challenge of loosening political and social controls without threatening the royal family's rule.
As always, the kingdom's vast crude oil reserves give it leverage and many cards to play in any high-stakes negotiation with Washington.
"I would not say that [the Saudis] have the U.S. over a barrel, but it is certainly a symbiotic relationship," said Sanam Vakil, a senior Middle East and North Africa analyst at the British-based Chatham House think tank.
Mr. Trump also has cited Riyadh as a major customer of U.S. military exports, but oil is key in the end.
Since Mr. Trump withdrew the U.S. from the Obama-era Iran nuclear accord in May, the White House has pressured the kingdom to increase its daily oil production by 2 million barrels a day to make up any shortfall when energy sanctions on Iran take effect Nov. 4. The U.S. goal, restated by top State Department officials on a visit to Europe this week — to drive Iran's oil exports down to "zero" and starve the Islamic republic of a critical source of funding.
Petroleum Minister Khalid al-Falih announced Monday that Saudi Arabia expects to ramp up production next month, but he was vague about how much more oil would flow.
"Saudi Arabia has the capacity to produce 12 million [barrels per day] and is currently producing 10.7 million bpd and production will rise further next month," Mr. al-Falih said on the sidelines of an India Energy Forum after meeting with Indian Prime Minister Narendra Modi.
Untested capacity
According to energy analysts, Saudi's maximum sustainable capacity of 12 million barrels per day has never been tested, sparking major debate about what such an effort would realistically look like.
More questions also are swirling around the 33-year-old crown prince, who has powerful allies in Washington, including presidential adviser and son-in-law Jared Kushner.
Initially welcomed in Washington foreign policy circles as a progressive reformer, the crown prince is increasingly seen as reckless, impetuous and authoritarian, said Gerald Feinstein of the Middle Eastern Institute think tank in Washington.
Mr. Feinstein said Monday that "continuing frustration over the conflict in Yemen, the confrontation with Qatar and human rights violations at home" — all initiatives undertaken by the crown prince — made him "too toxic for Western governments and international business to deal with."
But Ms. Vakil said Saudis hold leverage not only in global oil markets but also at U.S. gas pumps and that the White House is showing signs of nervousness over rising gasoline prices as the Nov. 6 critical midterm congressional elections approach.
While the U.S. has moved away from Saudi oil over the past two decades, the kingdom remains America's No. 2 foreign oil source, supplying 9 percent of the roughly 10.14 million barrels of American imports per day, according to the U.S. Energy Information Administration.
Treasury Department officials also note that Saudi Arabia now holds about $166.8 billion in Treasury securities, making Riyadh the 10th-largest foreign holder of U.S. government bonds.
"The relationship does begin with oil," Ms. Vakil said on the phone from London. "But the kingdom is also heavily invested in U.S. debt and bonds. They definitely have some leverage over Washington, and people realize that."
If Riyadh decided to dump a massive amount of U.S. debt, it could send shock waves across the Treasury markets and possibly destabilize the world's wider financial markets.
Trillions of dollars of more murky Saudi investments also stretch across U.S. real estate, the stock markets and the opaque world of American private equity.
James Phillips, senior research fellow for Middle Eastern affairs at The Heritage Foundation, said Saudi leverage is being taken into consideration as the administration mulls its response in the Khashoggi case.
"There are a lot of levels of response that could be taken," he said. "We could recall an ambassador or call the Saudi ambassador to the State Department. Or we could enact sanctions that do not rise to the level of impacting arms sales but clearly state that extrajudicial killings are unacceptable."
For now, the Khashoggi case has sparked far more questions than answers, with all sides strategically leaking as facts trickle out.
"What we have now is a war of disinformation," Mr. Phillips said. "It is an extremely strange case, and we need some real facts to emerge."